Due to rains from Hurricane Harvey, the reception has been moved to Sunday, Sept 3, 2-4pm
Our All Member Show is almost here. The reception will be on Friday 5-7, Sept.1, 2017. Awards will be announced. Everyone is invited to come, meet the artists that evening and see the works of our talented members. The show will be open 12-4 for viewing Sept 2 – 18. Monday – Saturday, except closed on Labor Day. Each day one or two members will be on hand to meet visitors and answer questions. Stop by on your lunch break and take a peek!
Also, on the following days an artist will be working in their medium.
Sept 6 – Mary Lou Hall working in watercolor
Sept 7-8-14 Thomas Hammett showing metal chasing and embossing
Sept 11 Gwen Yarbrough – working in watercolors
Sept 12- 13 Jo Friel and Joyce Lupresto working in watercolor
Sept 15 Dawn Kincaid
Sept 16 Paula Haynes working in mixed media
Sept 18 Theresa Shelton working in oils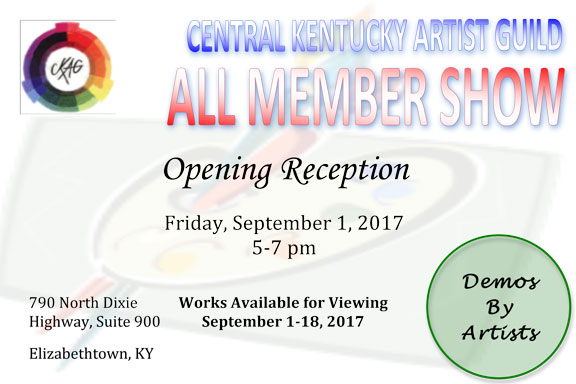 'Our Place' is located just south of Wendy's on 31W in the 790 building complex. Look for our logo!